Contact Information: Jeff Campbell with Caldwell County Road & Bridge, 816.586.2033.
Recycling Trailers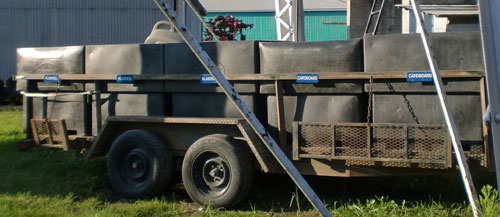 The trailer rotates between towns with the following schedule:
1st Monday of the month – Braymer

1st Wednesday of the month – Breckenridge

2nd Monday of the month – Cowgill

3rd Monday of the month – Kidder

3rd Wednesday of the month – Kingston

4th Monday of the month – Polo
RECYCLING STATION RULES
What You Can Recycle
What You Cannot Recycle
Plastic
Cardboard  

All recyclable containers to be rinsed and clean; no oil; no plate glass; no porcelain or china; no clay pots; and no light bulbs.

No lead acid batteries
No tires of any kind
No household hazardous waste such as paint, solvents, insecticides, spray cans, etc.
No appliances of any kind
No dead animals
No solid waste or trash of any kind
No yard waste, limbs, or trees

Financial assistance provided by the North Missouri Solid Waste Management District
and the Missouri Department of Natural Resources.

Recycling during daylight hours only!