The initial idea for the Little Otter Creek Lake Project began in the 1980's when, during a severe drought, the need was found to provide a dependable source of water for the citizens of Caldwell County. The first formal report on this proposed water supply was written in 1989 and on June 22, 1990, county officials met with the Natural Resources Conservation Service (NRCS) Watershed Planning Staff to discuss the possibility of building a rural water supply system that would also assist in flood prevention during years with more rain. In late 1991, the Caldwell County Commission requested assistance through the Watershed Protection and Flood Prevention Act and on August 3, 1992 they filed an application for federal assistance for a lake project with the NRCS. Within the following year a steering committee was formed and the NRCS began to meet with the committee and landowners that would potentially be affected by the project.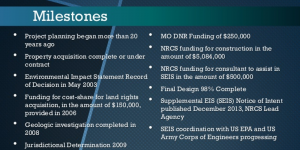 Following a lull in the project, on July 7, in the year 2000, the Caldwell County Commission and the Caldwell County Soil and Water Conservation District again requested assistance from the NRCS to renew planning on the lake project and active planning began. By late summer a public meeting had been held to discuss possible sites for a reservoir, needs for a dependable water supply, and the potential for added recreational activities for the county.  The Caldwell County Lake Project Steering Committee recommended that the Caldwell County Commission serve as the primary sponsor of the project.
On January 7, 2002, the Caldwell County Commission asked the NRCS to design a multi-purpose reservoir in the Little Otter Creek Watershed, about 3 miles east of Hamilton on the South side of 36 Highway. They estimated that the reservoir would provide a minimum of 1,200,000 gallons of water supply per day to the county and surrounding areas. Later that year, the citizens of Caldwell County voted in favor of a 0.5% sales tax to assist in the funding of the Little Otter Creek Project.
The Caldwell County Commission has spent the subsequent years working with project engineers, the USDA, NRCS, landowners, the U.S. Army Corps of Engineers, and many environmental and wildlife organizations to create the plan and acquire the property needed for this project. They are working to receive all of the proper permits, additional funding through grants, and to make sure all concerns and regulations for the environment and wildlife are carefully considered and met. Progress on the Little Otter Creek Lake Project is being made continuously and it is expected that groundbreaking will happen within the next couple of years.
Take the 2019 Little Otter Creek Tour!
---
Project Resources
Allstate 2010 Preliminary Engineering Report (except appendix F and G)
Allstate 2010 Preliminary Engineering Report: F
Allstate 2010 Preliminary Engineering Report: G
Technical Specifications for Intake Structure Design
Watershed Plan and Environmental Impact Statement
Little Otter Creek Preliminary Plans